---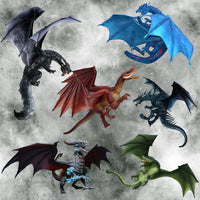 Dragon Fabric, Dragons fighting in the sky, Cotton or Fleece 2011
Beautiful Quilt Fabric
Regular price $17.00
Now these dragons are cool.  This is an overall yardage dragon fabric available on 100% Cotton or Fleece.  There are two sizes available.  The image below is either a nine inch repeat or 18 inch repeat, which means that the large dragon on the left side is either approximately 6 inches from the top of the wing to the tail in the smaller size (nine inch repeat), or he is approximately a 12 inch tall dragon in the larger size (18 inch repeat).  It just depends on how much you like dragons.  
This fabric is 56 inches wide.
The fabric is priced by the yard, your order is cut continuously.