---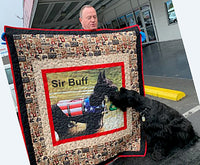 Dog Fabric, Schnauzer Quilt, "Sir Buff", Not for Sale, Sample 2233
Beautiful Quilt Fabric
Regular price $0.00
"Sir Buff" is checking out his quilt.  It must be his because his name is on it.  Daddy is holding it up for him.  This quilt was made by Glenda Higinbotham from Central Point Oregon with a panel that we printed from a photograph of Sir Buff. 
We added "Sir Buff's" name to the photo (just in case Dad tried to steal it from him).
I think "Sir Buff" approves of his quilt.  Great job Glenda !
We can print just about any photograph and add names in cotton, fleece or Canvas.