---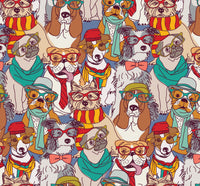 Dog Fabric, Dogs with Glasses, Cotton or Fleece 1466
Beautiful Quilt Fabric
Regular price $17.00
A cute allover dog fabric and the dogs have glasses!  It must be from eyestrain watch mom and dad bounce from place to place.  Can't they just sit there and pet me, or better yet, some people food.  The dogs are approximately 3 inches tall.
Available in three fabrics:
Our 100% cotton has 4.2 oz of cotton per square yard. This is our "normal" fabric.
Our 100% Cotton Sateen is a term that defines the type of weave. It is 5.6 oz per sq yard of fabric, so it is denser, heavier, feels smoother, has a little shine and makes the image more vivid. Not recommended for hand quilting since hand quilters say it is hard to needle.
Our fleece is a no pill fleece and oh so cuddly. Makes great tied blankets.
Sold by the yard.