---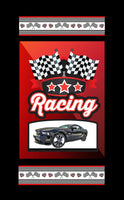 Car Fabric, Racing Fabric Panel, Add Your Car Here, Fleece, 3672
Beautiful Quilt
Regular price $60.00
This is a great fabric panel for racing fans.  We are showing a Mustang Car in this panel, but we can change the car to just about any car picture..  Just give us the make, model, color and year and we will change the picture to your car or send us an email picture of your car and we will add that.  This is a big panel that is custom printed on fleece.  It is 56 inches wide by 90 inches long (2.5 yards).
In the comment section of your order, or email us a picture of your car and we will insert it into the panel.
See item 3671 for a cotton version of the panel.