---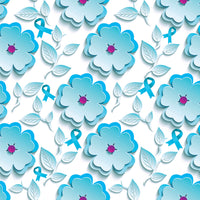 Cancer Fabric, Ovarian Cancer Fabric, Teal Daisy and Ribbon, Cotton or Fleece 1003
Beautiful Quilt Fabric
Regular price $17.00
Pretty teal daisy and cancer ribbons are for Ovarian Cancer Fabric.  This is a custom print and takes five days for printing. Available in  100% Cotton, 100% Cotton Sateen, 56 inches wide or Fleece, 56 inches wide. 
This fabric is sold by the yard, you order is cut continuously then your order is cut in one continuous length.  1 yard = 1 unit. 
Yes, I know, it looks kind of green in this picture, but it is really teal.