---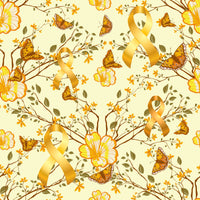 Cancer Fabric, Childhood Cancer Fabric, Butterflies, Cotton or Fleece 5889
Beautiful Quilt Fabric
Regular price $17.00
This beautiful fabric is priced and sold by the yard.  Then your order is printed in one continuous piece. 1 yard = 1 unit.
A custom print cancer theme fabric by Beautiful Quilt Fabric.  A unique design that is only available in our shop.  This yellow cancer awareness fabric symbolizes childhood cancer.  Beautiful butterflies and flowers with yellow ribbons. Available in 100% Cotton fabric, 100% Cotton Sateen fabric,
56 inches wide or Fleece, printed on one side, 56 inches wide.